Can Yamaha dethrone Sonos at their own game?
One of the holy grails of audio is whole-house music.  Traditionally, installing a high-quality whole-house audio system involved an expensive receiver or separates, multizone amplifiers, custom-installed cabling, and a home automation system to control everything.
Several years ago, Sonos became a spouse's dream and turned the custom-installer industry on end with its expandable, wireless audio system.  Using WiFi and a slick app you could stream audio to Sonos-branded speakers and even connect your Sonos streams to your HiFi system.  Even though Sonos didn't provide custom integrators with their accustomed markup margins, the product's ease of use and functionality quickly forced integrators to make Sonos one of their go-to products for wireless whole-home audio. Consequently, Sonos now owns over 90% of the market share.  If you're wondering about Bose, they own less than 4%.
Over the years, several companies have tried to dethrone Sonos' unrivaled dominance without success.  The reasons why they failed have been many. Suffice to say, no company to date has been able to match Sonos' incredible ease of use; seamless integration with streaming music services; ease of expandability; and decent sound quality.
That may all change with Yamaha's announcement of their new MusicCast Wireless Music System.
What is MusicCast?
Yamaha invited me to an in-depth, hands-on sneak-peek of their MusicCast at their offices on 5th Avenue in New York on Friday, August 14th.  All I can say is that I came away incredibly impressed.  Let me explain why.
MusicCast is Yamaha's new ecosystem that promises to bring music to every room in your home wirelessly.  MusicCast has been designed to work on your existing home WiFi and Ethernet networks.  The MusicCast system is controlled by a simple, yet elegant, App available for both iOS and Android platforms.  From Yamaha's MusicCast App, you can play different music in any room, combine rooms, or have all rooms play the same source.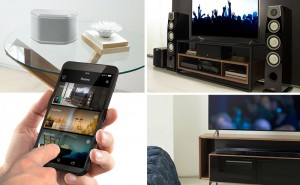 I saw first-hand how easily MusicCast can accomplish this, but what really impressed me is how Yamaha pretty much acknowledged that yet another proprietary solution won't make a dent with the average consumer.  Instead, Yamaha is entering a market where many potential customers already have existing Bluetooth or AirPlay speakers.  Instead of eschewing that reality, Yamaha embraced it and made it a key part of the MusicCast platform.
Out of the box, MusicCast is compatible with Bluetooth and AirPlay for peer-to-peer connections.  You read it correctly.  That means that unlike some competing solutions you aren't strictly tied to Yamaha-only solutions for your audio streaming.  You can leverage your existing investments.
For users who have made previous investments in Apple's AirPlay, you'll love the fact that all MusicCast devices are compatible with AirPlay.  According to Yamaha AirPlay will even work from an Andriod device using their App.  The limitation is that because AirPlay will be a peer-to-peer solution, AirPlay content cannot be linked to other rooms through the app.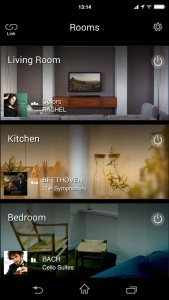 Like AirPlay, MusicCast has been designed to support Bluetooth version 2.1 + EDR and aptX as a peer-to-peer solution; and, because MusicCast is Bluetooth compatible, it can also output a Bluetooth stream to wireless Bluetooth headphones.  Imagine you're watching a movie or listening to music late at night and everyone in your house is heading to sleep.  You could redirect that source to a pair of Bluetooth headphones and continue to listen without disturbing anyone else!
Audiophiles and music lovers who are building high resolution music collections will be happy to learn that MusicCast supports wireless playback of hi-res music.  MusicCast components are compatible with Apple Lossless (ALAC) up to 96 kHz / 24-bit, as well as FLAC, AIFF and WAV files up to 192 kHz / 24-bit. Most MusicCast models also support single-device playback of DSD streams up to 5.6 MHz.
The MusicCast app allows you basic treble and bass control and also allows some enhanced options such as raising the dialogue level or enabling Pure Direct mode on a source.
All of this functionality and power is available in the palm of your hand without the need for proprietary controllers .  With MusicCast you get Sonos-like ease of use with a much broader and compatible set of products and sources.
How Does MusicCast Work?
When Yamaha showed me the demo of MusicCast, playing content was incredibly easy to do.  I mean MusicCast was ridiculously simple. You simply select a room from the App, select a source to play in that room, then choose your song and start playing.  It really was that easy.
As you would expect, you can provide custom names to any room and use beautiful stock images or colors to represent each room.  Using your mobile device's built-in-camera, you could even take a picture of a room or family members in your home and use it right on the app.
If you have different mobile devices running the MusicCast app, the rooms and settings will synchronize automatically.  And, if you're using the stock images or colors those too will synchronize across devices.  Custom installers rolling out MusicCast systems will find that custom images will require more time and effort, as they won't synchronize across devices.  In such instances, you will need to manually apply a custom room image to every single device.  Otherwise, the other apps will show a grey box where the custom image was used.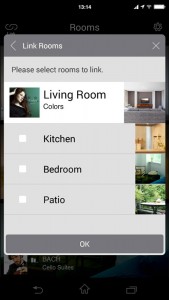 Yamaha really made playing audio across different rooms a breeze.  To link rooms together, simply press the "link" button in the upper left corner of the app, select the room that will serve as the master, and then select the rooms to link off the master room.  Once you link rooms, you'll have the ability to set a master volume for the group or control the volume in each room independently.  Assuming that all the linked devices are Yamaha MusicCast devices, pressing a single power button the linked rooms will automatically turn off the power to all the devices at once.
With the app, you can also edit sources, hide sources and even rearrange the order in which they appear in the app.  You have a tremendous amount of power and flexibility in an intuitive app.
with MusicCast you get Sonos-like ease with a much broader and compatible set of products and sources.
Speaking of sources, according to Yamaha, you'll also be able to access music you may already have on your music server.  For Windows and Mac users that means access via DNLA.  Macs do not natively support DNLA and will require DLNA server software to be installed.  Again, all MusicCast devices support AirPlay so you could do individual streams from Macs to MusicCast products, but the MusicCast "Link" mode is not supported when an AirPlay source is used.  This is Apple restriction, not a limitation by Yamaha's MusicCast.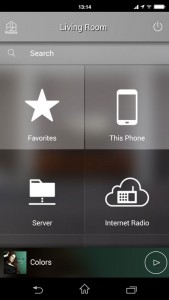 You're probably wondering about MusicCast's scalability.  How much can you grow a MusicCast system?  MusicCast can support up to 10 connected devices; but this number can get confusing so let me explain a bit.  A MusicCast speaker, Bluetooth speaker, or MusicCast-compatible AV Receiver from Yamaha each count as a connected device.  However, any and all sources connected to your MusicCast-compatible Yamaha AV receiver don't count against your 10 device limit.  Therefore, that limit of 10 connected devices isn't as confining as it may first seem.
The 10 connected device limit has more to do with WiFi bandwidth.  To get the most out of Yamaha's MusicCast, you need to have a solid WiFi network in your home.  Any Bluetooth-connected devices are still subject to all the proximity limitations inherent in the Bluetooth protocol.
Indeed, because the main control is via an app, WiFi connectivity is an absolute requirement. MusicCast does have the capability for adaptive streaming to handle some network congestion.  In reality, you really want to have a minimum of 802.11n to make the most of the what MusicCast can offer.  WiFi bandwidth will become an even more acute issue if you want to do hi-res music streaming and may cause some confusion so let me explain.  If you have a hi-res music song streaming via MusicCast, you can stream that one song to three devices.  However, if you want to stream multiple hi-res songs to different rooms, then what happens is that the primary room will retain a hi-res stream and the remaining rooms will have the audio down-sampled to an adaptive bitrate.
A really cool use-case for MusicCast involves everyday interactions with friends.  It's not uncommon for friends to want to share or stream audio content when hanging out.  Usually, that's involved giving out your WiFi password to make that happen. Not any more.  With MusicCast, you don't have to give out your private WiFi password.  Friends or visitors can now connect their mobile device via Bluetooth and stream their content through your MusicCast setup.  Simple and slick.
One thing that struck me about Yamaha's App is how much it reminded me of some home automation systems.  I asked Yamaha if there were any APIs or hooks for third party developers to extend the App or if it would tie into other basic home automation solutions like lighting or thermostat control.  Yamaha does not have any plans for such expansion but they will soon have the necessary controls available for third party automation systems like Control4 and URC.
What Content Can I Stream Through MusicCast?
A real strength of MusicCast lies in its variety of streaming sources.  I love the way Yamaha approached this.  MusicCast supports the standard streaming services such as Pandora, Spotify Connect, Rhapsody, SiriusXM, and free local and international radio stations on vTuner.  Yamaha is working on adding additional services to their MusicCast ecosystem; but until that happens, you can stream pretty much any service or source from your mobile device by using Bluetooth.  For example, if you subscribe to Apple Music or Tidal, you can stream those services from your mobile device via Bluetooth to any MusicCast speaker or room.
Adding a Yamaha MusicCast-compatible AV receiver gives you an almost infinite option of music sources.  You can stream any of the Yamaha's AVR inputs including CDs, Blu-rays, or even your vinyl album collection.
What MusicCast Products Will be Available?
Did I mention that Yamaha is intently committed to MusicCast?  Yamaha is positioning MusicCast to take back a big chunk of the wireless music market currently dominated by Sonos.  By the end of 2015, Yamaha is scheduled to offer over 20 MusicCast-enabled products. Those products include AV receivers, wireless speakers, sound bars, integrated amps and HiFi components, and powered monitor speakers.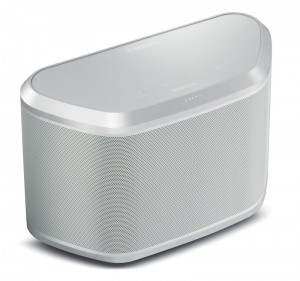 I had a chance to get a first-hand sneak peek of various components on hand.  A few of the new products caught my eye.  The first was Yamaha's forthcoming MusicCast powered speakers that look to go head to head with Sonos.  My brief impression on the wireless, powered MusicCast speakers is that they have been geared towards easy mobility and flexibility within a home.  They won't break the bank.  The units are small and decor friendly and would easily fit into a kitchen or bedroom.
Yamaha will introduce a MusicCast Sound Bar and a MusicCast TV Speaker Base in September, both of which offer a single-body design for those seeking an easy way to enhance their TV sound without having to connect multiple speakers. Both will  feature Yamaha's exclusive Digital Sound Projector technology for true (vs. virtual) surround sound and HDMI connectivity with 4K Ultra HD and HDCP 2.2 support for compatibility with today's 4K/UHD TVs and sources.
The MusicCast Sound Bar (YSP-1600) will sport eight speaker drivers plus dual built-in subwoofers in a slim, 2.5"-tall design suitable for placing in front of a TV. The MusicCast TV Speaker Base (SRT-1500) features 10 speaker drivers plus dual built-in subwoofers in a solid wood MDF enclosure that can be used as a base for most 32-inch to 55-inch TVs.

As cool as these aforementioned models may sound, it's the MusicCast YSP-5600 Sound Bar that caught my eye.  For me, the YSP-5600, will be a must for any space-challenged home theater lover to check out. The YSP-5600 is slated for December, release and will support Dolby Atmos and DTS:X in a 7.1.2 setup with 7 main channels, one sub, and two height channels using Digital Sound Projector technology to deliver multidimensional sound.
If I got the details right in my notes, the YSP-5600 sound bar will accomplish this feat by using a steerable array of 46 drivers.  Twelve of the drivers will be dedicated to height elements.  The speaker array will come with an auto-calibration feature to instantly configure all the drivers for optimal performance within your room.  While no subwoofer is included with the YSP-5600, you can add your own or add a wireless subwoofer kit for $150.
with MusicCast you can have any source on any device in any room you want – wirelessly.
Yamaha's statement that they are committed to unleashing MusicCast across their product line is most powerfully symbolized in their forthcoming R-N601 integrated amplifier, which will fully support MusicCast.  Listen, Yamaha is coming out and telling the die-hard two-channel audiophile, "Are you into vinyl?  No problem, we'll let you stream that too. We're giving you any source on any device in any room you want—wirelessly."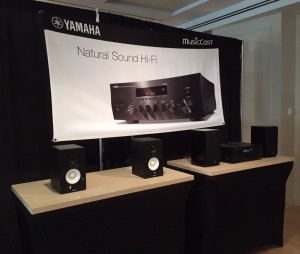 It was the AVENTAGE CX-A5100 MusicCast-compatible AV preamp/processor that really had me salivating.  Slated for a September launch, the CX-A5100 will become available for those home theater enthusiasts who want an "AV separates" solution for some serious home theater performance.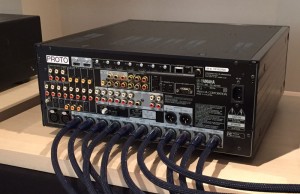 The new model will feature Dolby Atmos and DTS:X object-based multidimensional sound technology, the latest HDMI specs including HDCP 2.2, balanced multi-channel and subwoofer outputs and many other enhancements such as 64-bit processing for Yamaha's YPAO room calibration, in addition to MusicCast.
Here's the complete lineup of MusicCast compatible Yamaha products that you'll see by year's end.
Receivers
RX-V779
RX-V679
RX-V579
RX-V479
RX-S601 (slimline receiver)
AVENTAGE RX-A3050
AVENTAGE RX-A2050
AVENTAGE RX-A1050
AVENTAGE RX-A850
AVENTAGE RX-A750
AVENTAGE RX-550
AV Separates
AVENTAGE CX-A5100
Home-Theater-in-a-Box (HTiB)
YHT-5920
Speakers
MusicCast Speaker (Black)
MusicCast Speaker (White/Silver)
Sound Bars
MusicCast Sound Bar (YSP-1600)
MusicCast TV Speaker Base (SRT-1500)
MusicCast Sound Bar (YSP-5600)
Network Hi-Fi Receiver
R-N602 .
Powered Monitor Speakers
NX-N500
Are Existing Products Upgradable?
Many existing Yamaha AVR owners will want to know if their receivers or processors are able to support MusicCast.
Starting on August 20th, owners of the recently launched RX-V 79 and AVENTAGE RX-A 50 Series of Yamaha network AV receivers will be able to perform a firmware update to enable MusicCast capabilities. Supported AV receiver models include the RX-V479,RX-V579, RX-V679, RX-V779, RX-A550, RX-A750, RX-A850, RX-A1050, RX-A2050 and RX-A3050. This represents every one of the latest Yamaha network AV receivers.
Is MusicCast the Real Deal?
While I got some great insights into MusicCast, it obviously remains to be seen if it becomes a huge success or a massive flop.  But one thing's for sure, Yamaha has thrown down the gauntlet and let the whole world know in no uncertain terms that they intend to take the wireless music world by storm.
Four things made an impression on me that, if I'm right, will give MusicCast the potential to be huge.  First, Yamaha envisions MusicCast in pretty much every product.  It's not an add-on. It's a default feature.  You aren't taxed to get it.  The ubiquity will give Yamaha the potential to attract new customers as well as provide them with an installed base that users can take advantage of MusicCast down the road as their needs grow.
Second, the system is just beautifully designed and easy to use.  Multi-room systems can get complicated quickly and I think Yamaha has done a remarkable job of bringing that complexity under control to the point where it's going to be a piece of cake for a non-technical spouse.
Yamaha has thrown down the gauntlet and let the whole world know in no uncertain terms that they intend to take the wireless music world by storm.
Third, MusicCast isn't envisioned as a closed system but will welcome established Bluetooth and AirPlay speakers and setups so that consumers won't feel as though they have to forklift their existing setup or can't take advantage of their current investments.  While I personally dislike Bluetooth music streaming's peculiar quirks, I know that many have become by enamored by the convenience.
Fourth, users can take advantage of high quality streaming without compromising high-end audio or high quality audio sources.  I think some audiophiles have shied away from wireless streaming because it just hasn't lived up to their standards.
While I've personally admired some streaming solutions from afar, leaving the Yamaha's offices after the MusicCast demo was the first time I've said to myself, "That's the solution I could really live with."  MusicCast seems like a real winner.  Getting our hands on some MusicCast-compatible products for review can't come soon enough.
Read more at: http://www.audioholics.com/gadget-reviews/yamaha-musiccast-wireless-music-system
Home Audio Wireless Multi-room: