Equipment used:
Headphones: Oppo PM-3, PM-2, HE-560, Aurisonics Harmony, UE900s, LZ-2A, Fiio EX1, RHA T20
Music used:
From Röyksopp to Amber Rubarth, Diana Krall to Apoptygma Berzerk, Tom Jones to Sphongle, Yello to Camouflage, mostly FLACs 24/96 or 16/44.1 – some mp3 320kbps, some AAC 256kbps, some DSD files Depending on headphone high or low gain – no EQ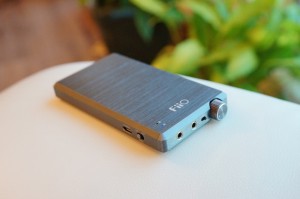 Disclaimer: I received the Fiio E12a review unit from www.samma3a.com the local distributor of Fiio products. I have to return the unit, so there is no financial interest. I am not affiliated with Fiio or Samma3a.com Though I really highly appreciate what these guys are doing for the audiophiles in the region!! Thank you so much for letting me test and review this amp.
When I review DAPs and amps I tend to use an input switcher and play the same song on both players, volume matched by ear and switch back and forth. Then I do some extensive listening with the unit and different headphones.   I owned a lot of Fiio products over the years, the X3, X5, E07K, E7, etc. and so far never had any serious issues with them.
Pros:
Great design and build quality
Beautiful sound for IEMs and bigger headphones
Punchy bass
does one thing really good
Cons:
None really
The Fiio E12a might be the only portable amp you will ever need. It provides plenty of power (though not too much to introduce hiss), you have an analogue bass boost that works really well. Plus handling this little beauty is a treat thanks
Now, the longer version: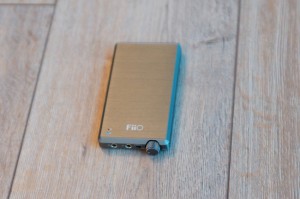 Packaging & Accessories
You get a charging cable for USB, a 3.5mm to 3.5mm connection cable, 2 rubber bands to "stack" it with a digital audio player and a soft carry pouch.
Technical Highlights:
Type: portable Headphone AMP
Out-Put Impedance:<1 Ω
Output power: >420 mW (16 Ω/THD+N<1%)
Headphone Impedance Range: 16-300 Ω
Frequency Response: 20Hz-20KHz
Signal/Noise Ratio:  0.003%@1KHz
THD: <0.005% (1 kHz)(line out)
Dimension: 14.5mm (D) X 65,5mm (W) X 124mm (H)
Battery life: >20 Hrs
Charging Time: <3 h
Weight : 166g
Input: 3.5mm
Output: 3.5mm
Warranty: 1 year
Size comparisons
User Interface and Build Quality
The E12a is a portable amp and as such doesn't have a whole lot going on. The most important dial is the combined on/off switch and volume dial. It feels very high quality and clicks on and off with a satisfying sound. It turns with the right amount of resistance not to accidentally turn it too much. The E12a feels very solid and high quality in your hand. It's really surprisingly well build. Machined from a solid block of aluminum it does feel very apple-ish.
Next to the volume dial is the Gain switch. This is an important switch. While using IEMs you should leave it in the L (low) setting while using H (high gain) for larger headphones or hard to drive IEMs. Gain increases the voltage and volume level depending on the headphone so you can use the volume dial with more precision.
Next to that you will find the headphone output and the Line-In to feed music to the Fiio.
On the left side you find the micro USB charging port and the bass boost switch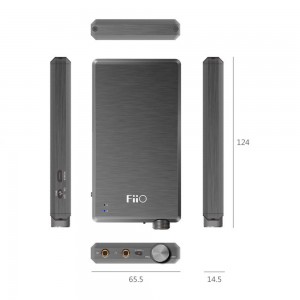 Sound Quality Comparisons
General
The E12a is the "sort-of" successor of the Fiio E12. Differences between the two are: better components for a "darker, blacker" background (no hiss), new silver chassis, much larger battery and longer battery runtime and lower power specs.
While the E12 was a very powerful amp that could rival many desktop systems, the E12a is focussing on portability (and still has plenty of power). Though it might not be the best to drive your planar magnetic heavy weights anymore, it will drive close to everything you throw at it very satisfyingly.
So how does it sound?
Lovely low end punch, a lot of detail and a black, black, black background. It's made for IEMs and it shows, even with the most sensitive IEMs with 8 Ohms – the E12a doesn't show any hiss in low gain. It's really done with a lot of care. Soundstage is good, depth and width are good for a portable amp and even for many desktop setups. If you have a Fiio X1, X3 or X5 adding this amp means you can drive a lot more headphones with you setup. The quality of the amp section of the E12a does beat the amp sections of these respective players. Just connect the line-out to the line-in on the E12a and enjoy the transformation.
The sound is organic and a touch on the warm side. Which is a good thing. The bass boost adds a lot of bass – depending on your headphones you might not need it, but it does add a lot of fun to some headphones.
Compared to E12
Main differences:
better components
darker background
larger battery
longer battery life
made for IEMs
lower power output
Even though the E12 has nearly twice the power in certain Ohm ranges, the E12a doesn't give up easily. It still drives some of my planar magnetic headphones absolutely with ease. It finds it's master in the HE560 and LCD2 with bass heavy tracks and quite high volume levels but hey, these are meant to be driven with a desktop amp. And as mentioned with normal listening levels even these sound great and there is only distortion when it's getting very loud.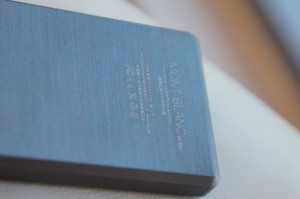 Rating 4 – 1/2 Stars                    8.6/10
Conclusion
Pros:
best quality sound for the price range
organic sound and musical presentation
beautiful quality build
great bass boost functionality
slightly warm, engaging and fun presentation
Cons:
size (not really)
battery eventually runs empty, haha
A great portable amp – for the money it will be hard to find anything comparable. Well done Fiio, this is going to be a classic.
I pitted it against the RSA "The Predator", JDS Labs C5D and Cayin C5 and it held its ground beautifully. Much better than I imagined. For the current price of 669 AED this is a steal. Add this to your digital audio player and enjoy the improvement in sound – and drive all your headphone with this setup.
See more at: https://www.samma3a.com/en/reviews/fiio/mont-blanc-e12a-amplifier-164.html#sthash.XBBtp86R.dpuf
Where to buy FiiO: http://abtec.co.nz/product-search.php?keyword=Keywords&category=&brand=121&search=