I must say right from the start that these 6.5″ BC Series Component Speakers from Digital Designs did impress me right from being handed the box…
Now in saying that I mean they were very weighty and I have always felt that a bit of weight equalled quality, but as we all know that's not always the case.
Again no short cuts here either descent high quality crossovers as well, really looking forward to getting these in our demo board and have a listen.
I guess we should look and the description and specifications first…
Description for BC6.5 Component Set:
Based on DD's flagship A-Series Components, the BC6.5 Components offer incredible audio quality at an equally incredible value. The features found on the BC6.5s are the same as you would find on other, much higher priced, high end sound quality component sets.
Mid Driver: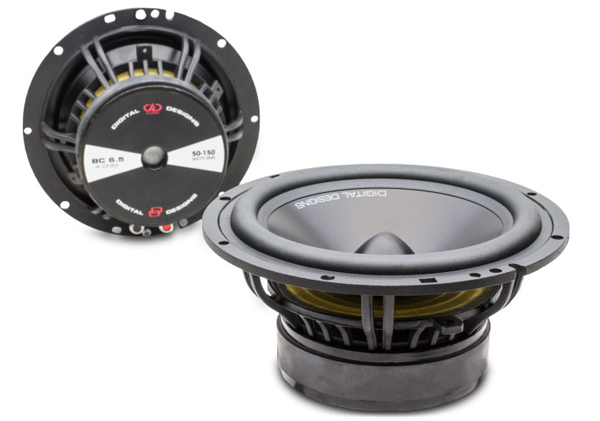 Through advanced metallurgy techniques the BC6.5s anodized aluminium cone mid driver has been optimized with the perfect balance of weight, rigidity, and damping resulting in a driver that is able to efficiently produce a wide bandwidth of silky smooth mid range. DD used a cast aluminium basket for extra rigidity, heat dissipation, and minimal parasitic magnetic absorption. For durability and installation convenience, we outfitted it with heavy duty chrome push terminals. Topping off the veritable cornucopia of performance features is the use of a shorting ring. You can't see this feature, but what it does for the driver is almost magical. It minimizes back emf and inductance resulting in lower harmonic distortion, better high end extension, better power delivery to the voice coil, and it even helps with heat dissipation.
Tweeter: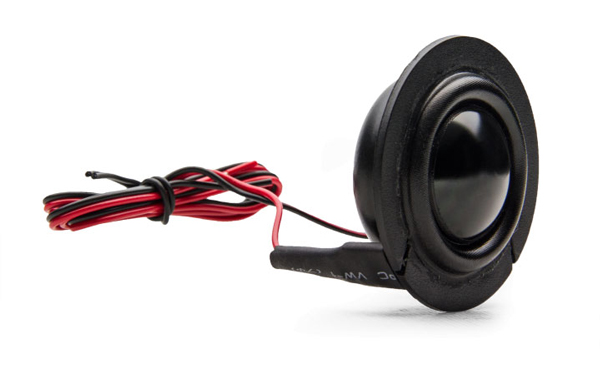 The composite design of the 30mm silk surround aluminium dome tweeter exhibits excellent transparency and resolution, and handles the high end spectrum frequencies with sonic excellence. The tweeter has a vented back for better coil cooling, better frequency response, and lower distortion. The tweeter also features a shorting ring just like the mid driver. The tweeter is able to be surface mounted with the included bezel, or it can be mounted raw for those tight factory locations.
Crossover: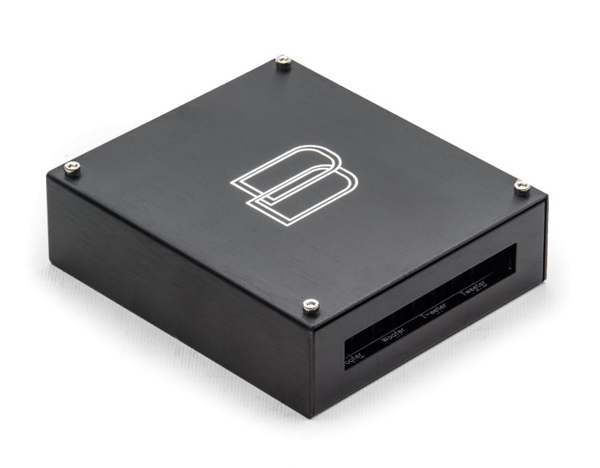 The included CC1 2nd order bi-ampable passive crossover (also sold separately) is both eye pleasing with its dual finish metal chassis and hidden speaker terminals, and highly functional. It features +/- 3db tweeter attenuation, tweeter phase shift, selectable conventional or bi-amp input mode, air core coils, and metallized film caps.
Specifications:
Crossover Frequency:               4kHz – 12 dB/Oct
Frequency Response:                40Hz – 25kHz
Power Handling (RMS/Peak)      50 – 100
A – Outside Diameter                 6.5
B – Cutout Diameter                   5.51
C – Mounting Depth                   2.88
D – Motor Diameter                    3.90
E – Motor Depth                                    1.12
F – Outside Height                     0.60
Digital Designs History: Since 1986, we have been building products for the Pro Audio Industry, Marine Industry, Mobile Audio, Home Audio, Industrial Applications and OEM Applications that are still in use around the world. We take pride in our role as an American design and manufacturing company, offering high quality products for everyone.
We spare no expense to create products that are built to last. Our woofers are assembled by hand in the USA using the finest quality parts in the industry. The components used to build our products are specifically designed to maximize longevity and sound quality. We do not make compromises to profit from substandard equipment.
Time to fire up these speakers and see how they sound.
First thing I noticed was sound direction seemed a bit weird at first but then realized what was happening I wasn't used to tweeters being multi-directional as these are. Now this is great when you can't mount the tweeters high or when mounted behind you.
Sound-wise non amplified they sound very smooth, precise deep rich bass and mids are just there, but not over powering. Then amplified, well then they're something else I really was surprised as having the AW6.5's Series HQ Component Speakers in my car, it was going to be an interesting comparison, to be honest, probably not a fair one, as price between these is quite substantial. But hey the BC6.5's really rock and you won't be disappointed owning a set of these.
Oh and got to love the packaging and presentation top notch to the guys at DD Audio!!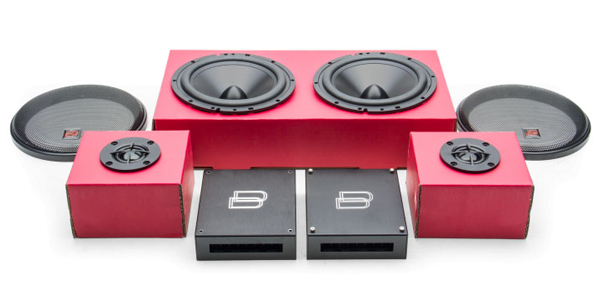 Pros: Great sound all round, amazing attention to detail, rich and smooth bass. Love those mids, a great combo between crossover / mids and highs.
Cons: Going to need some room for these drivers in some cars and maybe some more tweeter mounting options.
The Verdict: Yes I do like these, have to say you guys at DD Audio have done a really great job with these Component Speakers. They sound amazing and at the price point theyre at, they will be a fantastic addition for anyone looking for a High Quality set of components.
Sounds Alive Rating: 5
1 = Disappointing
2 = Average
3 = Acceptable
4 = Impressed
5 = Wow!!
Ashley Madd Bass Burrell